Okay, last week I said the death lesson was going to be tough.  Frankly, I think a Zion lesson is no picnic either.  I'm looking ahead though, and there are some better ones on the horizon, so hang in there, teachers!
On June 7, 1831, right after the Saints had finished gathering in Ohio, Joseph announced that he had received a revelation about Zion, the gathering place for the Saints (now found in D&C 52: 2):
"The next conference … shall be held in Missouri, upon the land which I will consecrate unto my people"
To which the stunned congregation probably replied something like, "What the . . . ?!"
Then, by late 1833, they were driven out of their homes in Jackson County, Missouri (picture at right is a park in Jackson County–er, Wisconsin!  Psych!  Good catch, Raoul) and told that the establishment of Zion must "wait for a little season."  (D&C 105: 9)  Joseph explained some reasons why this wait was necessary:
I cannot learn from any communication by the Spirit to me, that Zion has forfeited her claim to a celestial crown, notwithstanding the Lord has caused her to be thus afflicted, except it may be some individuals, who have walked in disobedience, and forsaken the new covenant; all such will be made manifest by their works in due time.  I know that Zion, in the due time of the Lord, will be redeemed; but how many will be the days of her purification, tribulation, and affliction, the Lord has kept hid from my eyes; and when I inquire concerning this subject, the voice of the Lord is: Be still, and know that I am God!  (Dec 1833)
What is Zion?
Zion is referred to 154 times in the Tanakh (Hebrew Bible).  In referring repeated to Zion, JS was clearly linking the restored church with the Israelites, which gave them a sense of purpose, community and destiny.
Q:  So, what is Zion?  Is it a place?  A community?  A state of mind?
Zion as a Literal Gathering Place
Article of Faith 10, written in 1842, was still focused on a literal gathering:
We believe in the literal gathering of Israel and in the restoration of the Ten Tribes; that Zion (the New Jerusalem) will be built upon the American continent.
Q:  Are there any good restaurants in Missouri?  (Just seeing if you're paying attention.  I googled it and got just a DQ and a Subway in Jackson County.  Seriously.)
Zion as a State of Mind
Joseph also made statements indicating that Zion was more conceptual than just a literal gathering-place.  Stakes of the church are also referred to as Zion.
Anyplace where the Saints gather is Zion, which every righteous man will build up for a place of safety for his children.  (1840)

There will be here and there a Stake [of Zion] for the gathering of the Saints. … There your children shall be blessed, and you in the midst of friends where you may be blessed. The Gospel net gathers of every kind. "… We ought to have the building up of Zion as our greatest object. … The time is soon coming, when no man will have any peace but in Zion and her stakes.  (1839)
Q:  How does gathering with the Saints bless us?  Do you think it's possible to get equally close to God independently as we do within the community of the church?  If so, isn't that a little bit like home schooling (limited in the number of teachers & perspectives)?

Q:  How should the counsel about Zion apply to our homes, our wards, our stakes, and the church at large?  How do we make the stakes of the church and our homes places of safety & peace?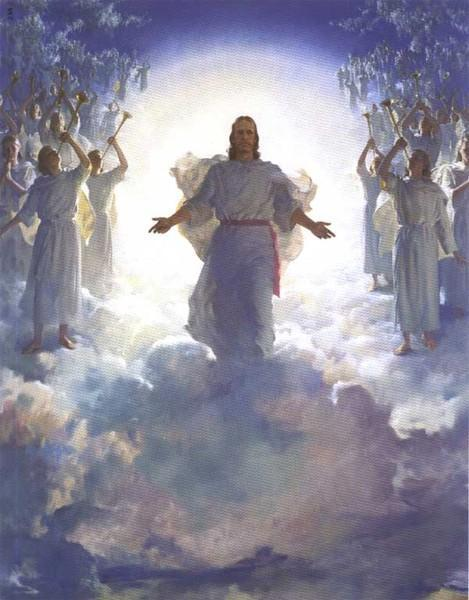 Looking Forward to Christ's Return
One purpose of Zion was to anticipate Christ's return as the ruler of His people:
[R]ighteousness and truth will I cause to sweep the earth as with a flood, to gather out mine own elect from the four quarters of the earth, unto a place which I shall prepare, a holy city, that my people may gird up their loins, and be looking forth for the time of my coming, for there shall be my tabernacle, and it shall be called Zion, a New Jerusalem' [Moses 7:62].  from Enoch's prophecy
Q:  Are you looking forward to Christ's return or not thinking much about it?  Does it kind of freak you out?
Purifying the Saints
When the Saints were kicked out of Missouri, the focus was on purifying the Saints so they would become worthy to inherit Zion:
"If Zion will not purify herself, so as to be approved of in all things, in His sight, He will seek another people; for His work will go on until Israel is gathered, and they who will not hear His voice, must expect to feel His wrath. Let me say unto you, seek to purify yourselves, and also all the inhabitants of Zion, lest the Lord's anger be kindled to fierceness. Repent, repent, is the voice of God to Zion; and strange as it may appear, yet it is true, mankind will persist in self-justification until all their iniquity is exposed, and their character past being redeemed, and that which is treasured up in their hearts be exposed to the gaze of mankind.  (1833)

"So long as unrighteous acts are suffered in the Church, it cannot be sanctified, neither can Zion be redeemed."  (1834)

"Let every one labor to prepare himself for the vineyard, sparing a little time to comfort the mourners; to bind up the broken-hearted; to reclaim the backslider; to bring back the wanderer; to re-invite into the kingdom such as have been cut off, by encouraging them to lay to while the day lasts, and work righteousness, and, with one heart and one mind, prepare to help redeem Zion, that goodly land of promise, where the willing and the obedient shall be blessed. … [We] pray our heavenly Father that you may be very prayerful, very humble, and very charitable; working diligently, spiritually and temporally, for the redemption of Zion, that the pure in heart may return with songs of everlasting joy to build up her waste places, and meet the Lord when He comes in His glory.  (1835)
Q:  Why do individuals need to be pure before Zion will be redeemed?  By show of hands, which of you slackers are holding us back?  (Just kidding!)

Q:  How do we reconcile reclaiming the backslider, bringing back the wanderer, and re-inviting those who have been cut off with the statement that Zion can't be redeemed so long as there are unrighteous acts suffered in the church?
This last question is the one I find the most interesting.  To elaborate, how can we establish a united people when the church is full of individuals at various levels of understanding, righteousness and self- and social awareness?  Is Zion a pipe dream or is it to be found in the striving for it only, and more at an individual level than an aggregate level?  What's the closest you've ever gotten to a Zion experience?

Discuss.