From the misguided and ill-conceived to the hurl-worthy, why is there so much bad Mormon Art?  Do Mormons have worse artistic taste than non-Mormons?  Or just on par?  You be the judge.  I've included various works of art below, all by Mormon artists.  Some I like and some I don't.  See what you think.
To the right is a statue of the First Vision.  Actually, I kind of like this one, although I'm not a fan of the medium the artist used.
This one is from Jesus' little-known Sermon in Stepford.  Much discussion has been had elsewhere about the problematic placement of the rose and whether this is supposed to be a picture of Jesus with his polygamous wives.  The artist has apparently denied that interpretation, but without an explanation of the phallic rose.
A Moroni tree-topper.  Not exactly art, but kitschy.  It's almost so bad that it's good in a Nebraska salt and pepper shaker way.

This Nativity inspired painting is both beautiful and thought-provoking.
This toothy-grinned Jesus is not nearly as good as its unsmiling counterpart.  This picture doesn't make Jesus look very smart, IMO.  Like he didn't get the joke, but he's laughing anyway.
This just looks like it belongs in a mini golf course to me.  Art?  Really?  Was this before wide-spread adoption of the Word of Wisdom?  Just plain weird.
This painting of the sacred grove always looks like it was inspired by the Redwood Forest rather than anything actually growing in upstate NY.  Accuracy aside, though, it's nice enough with the effect of the light filtering through the trees.
This tattooed man (those are prophets' portraits on his back) spells one word to me:  "devotion."  I'd like to see him add one of E. Oaks since the "no tattoos" pronouncement.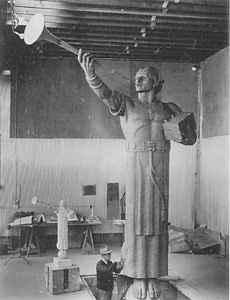 I like this more Art Deco version of Moroni, although that trumpet looks a little bit improbable, like a straightened ear horn or gramophone.  Or a yard-long beer.
I have also noticed that many other religions seem to like our Jesus pictures, particularly these two: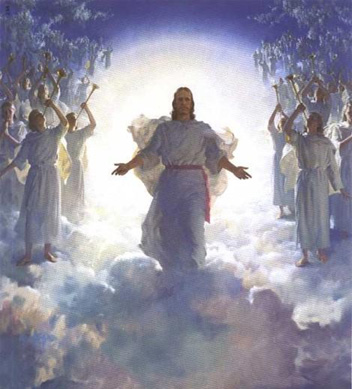 and
So, what do you think?  What Mormon artists do you like and which ones do you not like?  Why is there so much bad taste in Mormon art (kitschy or weird stuff) or is this just true of all religious art?  Is it because that's what sells or is that blaming the victims?  Or does religious feeling inspire otherwise unskilled and inartistic people to create "art"?
Do you disagree with any of the above artistic assessments (beauty being in the eye of the beholder and all)?
Discuss.