The NT doesn't give much insight into Jesus' life between age 12 and 30. Did he encounter Buddhism and seek personal enlightenment? Or are these ideas just inherently the best ones humanity will continue to stumble upon in our spiritual lives?
Buddha was a teacher who lived over 500 years before Christ.  The influence of his teachings had spread far in the centuries before Christianity.  Buddha is viewed as an awakened teacher who provides insights to help people end their own cycles of suffering.  Others have made additional parallels between Buddha and Christ, although there are many differences as well.
Many Christians are completely closed off to the notion that Jesus encountered Buddhism and that it influenced his teachings, considering Buddhism either a false, pagan religion (wrong on all 3 counts, IMO) or citing the fact that Buddha was only a teacher, not a God. Fair enough, but some early Christian docs refer to Jesus as not divine (gnostic texts often take this stance, IIRC). And certainly, if we are focused on becoming Christlike, that's placing him primarily in the role of teacher.
The idea that Jesus was Buddhist was an underlying theme of the totally fictional book Lamb: The Gospel of Biff, Childhood Pal of Christ, a somewhat irreverent novel.  In the book, Jesus & Biff (his BFF) take off at age 12 and explore the path to enlightenment by looking up the 3 wise men to find out what Jesus is supposed to do with all this divinity of his.  (SPOILER ALERT:  He decides to become a Bodhisattva (savior) after his travails.)
Another Jesus/Buddhism parallel is this notion that Jesus is buried on an island in Japan, and that the Jesus of the NT is his Japanese brother who took his place. That's another theory that has evangelicals' knickers in knots. http://en.wikipedia.org/wiki/Shingo,_Aomoriand again here:http://www.thiaoouba.com/tomb.htm
Many sayings of Buddha could just as easily have been said by Jesus and his followers.  (The following comparisons are from a Mormon theological perspective, including NT, BOM and D&C quotes):
Both taught about living in the present:

Buddha:  "Do not dwell in the past, do not dream of the future, concentrate the mind on the present moment."
Matthew 6: 34 Take therefore no thought for the morrow: for the morrow shall take thought for the things of itself.

Both taught that individuals should be able to recognize the truth through their own internal guide:

Buddha:  "Believe nothing, no matter where you read it, or who said it, no matter if I have said it, unless it agrees with your own reason and your own common sense."
Matt 13: 9 Who hath ears to hear, let him hear.

Both decried envy and encouraged humility:

Buddha:  "Do not overrate what you have received, nor envy others. He who envies others does not obtain peace of mind."
Matt 23: 11 But he that is greatest among you shall be your servant

Both taught that the physical is affected by the spiritual power within:

Buddha:  "Every human being is the author of his own health or disease."
3 Ne 17:8 I see that your faith is sufficient that I should heal you

Both taught that life is full of trials, whether one is rich or poor, and that compassion is best:

Buddha:  "Have compassion for all beings, rich and poor alike; each has their suffering. Some suffer too much, others too little."
Matt 18: 27 – 33 Then the lord of that servant was moved with compassion, and loosed him, and forgave him the debt. But the same servant went out, and found one of his fellowservants, which owed him aan hundred pence: and he laid hands on him, and took him by the throat, saying, Pay me that thou owest. And his fellowservant fell down at his feet, and besought him, saying, Have patience with me, and I will pay thee all. And he would not: but went and cast him into prison, till he should pay the debt. So when his fellowservants saw what was done, they were very sorry, and came and told unto their lord all that was done. Then his lord, after that he had called him, said unto him, O thou wicked servant, I forgave thee all that debt, because thou desiredst me: Shouldest not thou also have had compassion on thy fellowservant, even as I had pity on thee?

Both taught the power of mind over matter:

Buddha:  "He is able who thinks he is able."
Matt 21: 21 Jesus answered and said unto them, Verily I say unto you, If ye have faith, and doubt not, ye shall not only do this which is done to the fig tree, but also if ye shall say unto this mountain, Be thou removed, and be thou cast into the sea; it shall be done.

Both taught that that humanity should join in unity:

Buddha:  "He who experiences the unity of life sees his own Self in all beings, and all beings in his own Self, and looks on everything with an impartial eye."
D&C 38:27 Behold, this I have given unto you as a parable, and it is even as I am. I say unto you, be one; and if ye are not one ye are not mine.

Both taught the value of fellowship and friendship, and the need to comfort others on their spiritual path:

Buddha:  "He who loves 50 people has 50 woes; he who loves no one has no woes."
Mosiah 18:9 Yea, and are willing to mourn with those that mourn; yea, and comfort those that stand in need of comfort
2 Cor 7:13 Therefore we were comforted in your comfort: yea, and exceedingly the more joyed we for the joy of Titus, because his spirit was refreshed by you all.
Mark 3: 35 For whosoever shall do the will of God, the same is my brother, and my sister, and mother.

Both warned against the negative effects of anger:

Buddha:  "Holding on to anger is like grasping a hot coal with the intent of throwing it at someone else; you are the one who gets burned."
3 Ne 12: 22 But I say unto you, that whosoever is angry with his brother shall be in danger of his judgment. And whosoever shall say to his brother, Raca, shall be in danger of the council; and whosoever shall say, Thou fool, shall be in danger of hell fire.

Both taught that acting on wise counsel is more important than hearing wisdom:

Buddha:  However many holy words you read, however many you speak, what good will they do you if you do not act on upon them?
Matt 7: 21 Not every one that saith unto me, Lord, Lord, shall enter into the kingdom of heaven; but he that doeth the will of my Father which is in heaven.

Matt 7: 24-27 Therefore whosoever heareth these sayings of mine, and doeth them, I will liken him unto a wise man, which built his house upon a rock: And the rain descended, and the floods came, and the winds blew, and beat upon that house; and it fell not: for it was founded upon a rock. And every one that heareth these sayings of mine, and doeth them not, shall be likened unto a foolish man, which built his house upon the sand: And the rain descended, and the floods came, and the winds blew, and beat upon that house; and it fell: and great was the fall of it.

Both taught that anger and envy lead to selfishness and derail one's spiritual path:

Buddha:  In a controversy the instant we feel anger we have already ceased striving for the truth, and have begun striving for ourselves.

James 3:16 For where envying and strife is, there is confusion and every evil work.

2 Cor 12:20 For I fear, lest, when I come, I shall not find you such as I would, and that I shall be found unto you such as ye would not: lest there be debates, envyings, wraths, strifes, backbitings, whisperings, swellings, tumults.

3 Ne 32: 2 2 Turn, all ye Gentiles, from your wicked ways; and repent of your evil doings, of your lyings and deceivings, and of your whoredoms, and of your secret abominations, and your idolatries, and of your murders, and your priestcrafts, and your envyings, and your strifes, and from all your wickedness and abominations, and come unto me, and be baptized in my name, that ye may receive a remission of your sins, and be filled with the Holy Ghost, that ye may be numbered with my people who are of the house of Israel.

Both taught the importance of one's internal life over external influences.

Buddha:  It is a man's own mind, not his enemy or foe, that lures him to evil ways.

Matt 16: 25 For whosoever will save his life shall lose it: and whosoever will lose his life for my sake shall find it.

2 Tim 1: 7 For God hath not given us the spirit of fear; but of power, and of love, and of a sound mind.

Both taught that salvation is ultimately an individual matter.

Buddha:  No one saves us but ourselves. No one can and no one may. We ourselves must walk the path.

Philip 2: 12 Wherefore, my beloved, as ye have always obeyed, not as in my presence only, but now much more in my absence, work out your own salvation with fear and trembling.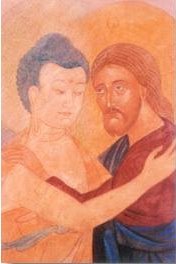 The NT doesn't give much insight into Jesus' life between age 12 and 30.  Did he encounter Buddhism and seek personal enlightenment that colored his ministry?  Or are these ideas just inherently the best ones humanity will continue to stumble upon in our spiritual lives?  Discuss.