A recent article in the Arizona Republic highlights the negative impacts to the LDS church of the new Arizona law that steps up enforcement of state immigration lows.  Due to the large population of Mormons in AZ (6% of the state are LDS), and the large population of Latinos (1.8 million, including many who are LDS), this issue is one that poses internal conflicts for members.
Immigration, and especially the porous border between Arizona and Mexico, is a current issue that seems to divide Mormons' loyalties:
Personally.  Many church members are very pro-Latino due to the large population of Hispanic members, the perceived shared family values, and the fact that so many members have served missions to Hispanic countries.
Politically.  Church members in the U.S. are more predominantly Republican than Democrat (although neither party is directly endorsed by the Church); the political rhetoric of the right-wing lately has swung hard in the direction of anti-immigration (especially illegal immigration) and toward securing the U.S. borders as a measure of national security.
As the article states:
Pearce has repeatedly said his efforts to drive illegal immigrants out of Arizona and keep them from coming here is based on the Mormon Church's 13 Articles of Faith, which includes obeying the law.
On the other hand:
Nora Castañeda, 46, a naturalized U.S. citizen from Hermosillo, Mexico, who has been a member of the LDS Church for 35 years, said several colleagues confronted her after the law passed. . . She does not believe, however, that Pearce's anti-illegal-immigrant stance is in line with the Mormon faith, which, in addition to teaching obedience to the law, teaches compassion.
The article points out that the church has no official stance on immigration policies which are clearly the province of governments:
Kim Farah, a spokeswoman for the LDS headquarters in Salt Lake City, said in an e-mail that elected officials who are Mormons do not represent the position of the church. She said the church has also not taken a position on immigration, which is "clearly the province of government."

"However, Church leaders have urged compassion and careful reflection when addressing immigration issues affecting millions of people," she said in the e-mail.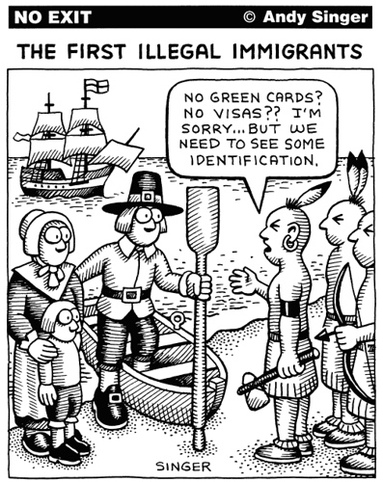 So, what do you think about the illegal immigration law and its reflection on the church?  I'm a bit torn on the issue.  Here are my reactions:
Generally speaking, I'm against things that are illegal, including illegal immigration.
I'm strongly against allowing terrorists into the country through unsecured borders, although this seems to be a more likely threat via airports than people trekking across an inhospitable desert.  But there is a risk that should be addressed.  However, ejecting non-terrorists doesn't really further that aim.
There are many human rights issues because of illegal immigration, including dangerous human trafficking and the conditions that illegal immigrants endure.
Given that, and the inhospitable terrain that illegal immigrants must traverse to get into the U.S., only the most dire of circumstances and personal danger could drive someone to take such a desperate action.   It's easy to be concerned about the human rights issues in our own country, but to overlook what those desperate individuals are fleeing in search of a better situation.  My compassion is moved.
Generally speaking, I am pro-immigration.  Unless you're a Native American, it's a little hypocritical not to be pro-immigration.  Immigrants come here full of ideals and dreams and they work their way through the American dream just like our own forebears.  They willingly do some of the toughest work, stuff that even laid off Wall Streeters and desk jockeys are unwilling to do.
I am decidedly pro-Latino!  Latino cultures are family-oriented, loyal, hard-working, and manage to have a lot of fun, too.  They have proud traditions just like everyone else, and they have a lot to offer the world.  Having served a mission in Spain, I have a lot of love and respect for Hispanic culture.
My own solution to the problem is simple:  the U.S. should buy Mexico.  It's a win-win!  But since that's not exactly on the table, I suppose I would like to see us come up with a way to secure the borders, a more open legal immigration policy, a pathway to citizenship for those who entered the country illegally, and diplomatic means to assist in improving the circumstances for those living in Mexico.
As a member of the church, though, the article brought up some additional questions:
Is the church accountable for the actions of members who are elected officials? 

I think not, although see my answer to the next question for a caveat.

Should elected officials who are members be given carte blanche to associate their actions with Mormonism?

  For one thing, how would that ever benefit anyone who lived anywhere but Idaho, Utah, and Arizona (possibly SoCal)?  Again, I say no.  Some correction in this case seems warranted based on Pearce's political position.  It simply doesn't seem right to me to pin his political choices on the LDS Articles of Faith.  After all, the AoF says "we believe in obeying, honoring and sustaining the law."  It doesn't tack on "and in creating additional laws to punish and deport anyone who has not jumped through our nearly impossible immigration hoops."
Is this grounds for someone to leave the church in protest?  Here I have to say I don't really think so.  The church has not endorsed this position officially; it's a political matter.  But I would say that if local members are behaving in ways that make it difficult for a specific group of people to attend, it's understandable (yet unfortunate) that they would leave.
What does the church do about members who have illegally immigrated?  This one's a bit of a minefield, and my guess is that we have no official stance.  Personally, I would be hesitant to link one's illegal status to matters like TR interviews (e.g. "honest in all your dealings") when desperation or a desire to protect your family has caused you to flee your dangerous home situation for a better life.  I would, in a cowardly manner, propose a "don't ask; don't tell" policy for these situations.  Let the heads of cabbage and rotten tomatoes fly!
What do you think?  Discuss!