What constitutes swearing?  Is it always wrong?  If so, why?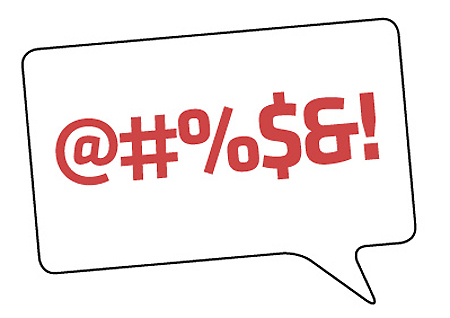 Where does swearing come from?  In the English language, we often refer to "four-letter" words as profanity.  Most of these words entered the pejorative lexicon of swear-words after the Norman conquest of 1066.  When William the Conquerer of Normandy became King of England, a linguistic hierarchy quickly took over; French words (Latin-based) were considered genteel, civilized, sophisticated, and were in vogue, while Germanic words (those four-letter words) were considered crude, unsophisticated, passe, and for the unwashed masses.  Essentially, most of these words had very similar definitions, but the preferred use of the French version took hold like wildfire among the courtiers and the wealthy, forever stigmatizing the Germanic versions.
I'm sure you can easily think of the Germanic counterparts for these flowery, French words:  fornication, defecation.   Over time, we have come to refer to the Latin-based words as "proper" names for things, and therefore inoffensive, but the German-based words are considered base, crude, or uneducated.  Is this really a fair bias against these words?  If they mean the same things, why are they bad?
Profanity generally fits into one of the following categories:
religious

sexual

excretory
But it can also include hate speech or words that are a specific personal insult to a group of people or an individual.  Some cultures consider the following language severe (that are less severe in English):  equating people with animals (German, Arabic, Dutch, Indonesian, Polish, Russian), violations of politeness protocols especially towards authority (Japanese & Korean), insults of mental illness (Russian) or referring to people as being diseased (Dutch).
Frankly, the English language is a lightweight when it comes to cranking out profanity, though.  IMO, Castillian has the most blood-curdling epithets known to man.  Most are blasphemous in nature and practically make me want to cry.  They are that bad.  I'm welling up just thinking about them.
So, of these types of swearing, are some worse than others?  Different cultures find different profanity themes more severe than others.  In English, the hierarchy tends to be:  Sexual, Excretory, Religious.  For Mormons, though, it's probably more like this:
Religious – because taking the Lord's name in vain is specificially prohibited in the Bible; practicing Mormons avoid this one like the plague.
Sexual – presumably because our bodies are sacred; speaking lightly or debasingly of sex acts diminishes them.
Excretory – I suppose to some extent related to treating the body with respect; this seems like the least offensive to me unless directed at another person.  The words, I mean.
I would argue that hate speech is the worst of all since it is directed at another person in anger.  Of course, within each category, some words are considered more severe than others.  So you may think a very mild religious based word like "damn" or "hell" is okay, but would not even think to use the grand Mother of all American swear-words (in the sexual category).
Mormons are notorious for their colorful expressions designed to avoid using profanity:
"Oh, my heck."

  I have never ever heard this stupid expression anywhere outside of Utah.  And I seldom hear anyone say the real version of this one either.

"Flip," or "Fetch."

  Plus all their silly derivatives.

"Gad"

instead of taking the Lord's name in vain.  Not a fan of this one, although it is also a Biblical name.  Somehow it sounds like something you'd hear in Fargo.
But Mormons aren't the only ones trying to be more creative in swearing.  Here are a few others making the rounds (in part due to network censors, but also because I think people like to keep it fresh):
"Frak" has become popular thanks to the reimagined Battlestar Galactica series.
"Arse" instead of its American counterpart.  This one just seems funny to me.
"Bee-yatch."  Adding a syllable makes it seem less harsh, somehow.  Also works for "Day-ammn," as in "Day-ammn, he looked fine."
"Mother puss bucket."  Bill Murray used this in Ghostbusters, so it's almost 30 years old.  Try this one in a business meeting if you want to leave an impression.
Just the name of the Fuddruckers restaurant gets us in stitches.
Liz Lemon on 30 Rock has come up with several creative ones lately such as "Hammer of Thor!"  Maybe "Lords of Kobol!" will catch on among BSG fans.
To circumvent network censors, some TV writers have gotten creative with mixing prefixes "dil" and "jack" with various suffixes.  Similarly, suffixes "hole" and "wad" and even "weed" can be mixed with various prefixes to create a whole pseudographia of swearing.  These pre- and suffixes retain innuendo without the stigma of familiarity.  George Carlin's list can't keep up.
Another creative "almost swear" approach is to hide the objectionable words within a phrase or a proper name or to cough or sneeze while saying the word (e.g. "slut sneezing").  Middle school stuff.
Texting has created many new abbreviations for swear words.  It also puts LDS at an efficiency disadvantage in texting.  "OMGosh" just isn't as brief.  You might wreck your car trying to text that.
So, is swearing sinful, and if so why?  Here are some of the assumptions that are usually trotted out.
It is crude or uneducated.  This argument dates back to 1066 in English, and while it may be true in some cases, it's not universally true.
It's not that creative.  Maybe, maybe not.  Is "Oh my stars and garters" really more creative than swearing?
It gives offense.  Certainly hate speech is offensive.  Some people can be offended by just about anything, even if it's not directed at a person.  Swearing seems inherently more aggressive and pointed.  Is this the real sin–being too vociferous?
It belittles "sacred" things.  Some does and some doesn't.  I have a hard time considering defecation sacred, even though it is a bodily function.
So, is all swearing wrong, or just when it is directed at others in anger?  Are there degrees of profanity that are acceptable?  If so, in what circumstances is swearing acceptable?  If not, why is it always unacceptable?  Do you have any non-swear words that you like to use as a substitute?