First, do no harm
Be kind
Help others
I see nothing but good coming from praying, reading the scriptures, and keeping the commandments. But it seems to me that these things give us an inner focus, while a main thrust of Jesus' message as Messiah was how we treat others. Since our primary concentration during Church instructional periods often centers around improvement of the self, we groom our members to become paragons of personal righteousness who may be lacking in their living of the social gospel.
I first realized this when driving to Salt Lake City from Provo to pick up my parents from the airport. They were arriving to attend my temple marriage, or rather, the reception and ceremonies surrounding my temple marriage, since they were nonmembers. Our car broke down on the way there. It was a Sunday, and the highway was crowded with Mormons in suits and dresses, presumably on their way to Church related activities. None stopped for a young couple in distress. Back in 1981 no one carried cell phones, and we waited for about an hour and a half before a man in blue jeans and smoking a cigarette stopped his truck to assist us. The young convert BiV, just off her mission, was disillusioned that all of the fine Latter-day Saints of Utah would pass by while the "Samaritan" was the only one to stop.
I particularly feel a lack of empathy when members justify not giving to the less fortunate in their own circle of influence because they already pay their fast offering; or because they've decided that the bums don't deserve it, are too lazy to get a job, or will spend it inappropriately anyway!
I know there are many things we do as Latter-day Saints that come under the category of "service." In the past few years I've seen service projects under the auspices of the Relief Society increase. A popular service lately has been putting together humanitarian kits to go to schools, or to people in different parts of the world who have been devastated by natural disasters. I don't want to say these aren't good things!  I absolutely don't want to denigrate this type of service. It's hard to put together a service activity for a large number of people to do in this kind of context. I guess I just want to point out that this is a service that is removed from personal contact. It's just right for an internet generation who is one step removed from real face-to-face contact with other human beings. I see too many sisters who put together humanitarian kits, all the while gossiping about others in the ward.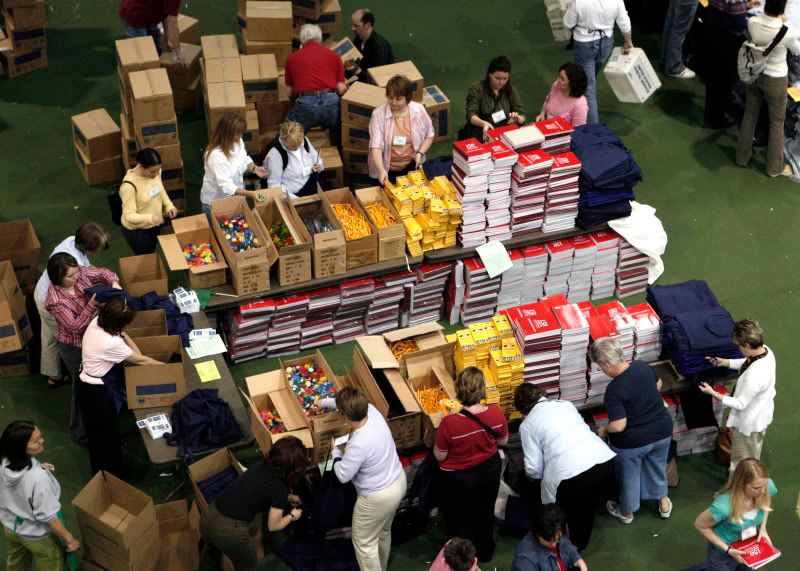 Some things I've seen in the Church that I think foster other-focused living of the gospel: We were living in Texas in 2001 during Hurricane Allison. Our home came through OK, but there were homes in our ward and stake which were completely destroyed. On Sunday we showed up for sacrament meeting and the members of the Bishopric were dressed in jeans. They dismissed the meetings and sent the members out to shovel out homes, rip up carpet, collect belongings and prepare food. We started at the homes of members and spread out to the entire neighborhood. I have never seen the youth work harder or feel more fulfilled. Their faces were absolutely glowing with health, exertion, and pure joy in service. These same members were so touched by this experience that a few years later when New Orleans was flooded they organized parties to drive down and spend their weekends assisting with the efforts there. They brought with them food, shovels, and everything they needed to be completely self-sufficient while they were there plus contribute in a major way.
Mormons are actually quite good at this. But huge disasters don't happen every day. What can we do to symbolically dismiss our members from Sacrament Meeting to go out and make a difference in the small disasters of people's lives? How can we send our members home from Sunday School not only to pray and read their scriptures, but to see the people around us and be kind to them?