'In 1866, at the age of only twenty-seven, Joseph F. Smith was ordained an Apostle by President Brigham Young, and served briefly as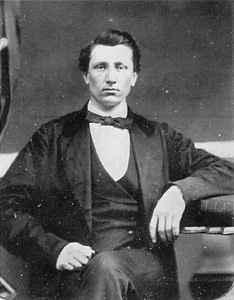 one of his special additional counselors. When a vacancy occurred in the Twelve the following year, Elder Smith was sustained as a member of that quorum' [1].  The date was Oct 8, 1867.  This means Joseph F. Smith was an Apostle a year before he joined the Quorum of the twelve.  Moreover, BY ordained Joseph F. Smith spontaneously without consultation of all members of the First presidency [2].  Lest we think this is just another aberration of the Brigham Young period, it has occurred a few times in the Church's history.  What does this tell us about what it means to be an Apostle, and what is the relationship between the quorum and the office?
As a lead into the rest of this discussion the other people who had this experience are:
Joseph Angell Young – One of Brigham Young's sons was ordained in 1864 and was never subsequent invited into the quorum [3].
'Brigham Young, Jr., was ordained as an Apostle by his father on February 4, 1864, but he did not become a member of the Council of the Twelve until October 1868, when he was chosen to fill the vacancy caused by George A. Smith' [4].
Sylvester Q. Cannon was ordained an Apostle on April 14th, 1938 and was set-apart in the Quorum April 6th 1939, a year later [3].
Finally Alvin R. Dyer was called as an Apostle on October 5th 1967 but was never included in the Quorum, and was actually incorporated into the First Quorum of Seventy when it was created in Oct 1st 1976 [3].
The last person that might have been in a similar situation was David Whitmer & Oliver Cowdrey (D&C 18: 9), but I will not discuss this here [5].
President McKay once said: "There are apostles who are not members of the council. I think there were in that day [i.e., in New Testament times], at least they were considered to be apostles… A man may be an apostle but not one of the Council of the Twelve" [4].  That people can be ordained as an Apostle without being a member of the Twelve suggests that it is a Priesthood office which could be bestowed on those who are prepared.
In an article by David L. Paulsen, Joseph Smith is recorded to have said in a meeting in 1833, after a vision of the Father and the Son, "Brethren, now you are prepared to be the apostles of Jesus Christ, for you have seen both the Father and the Son and know that They exist and that They are two separate personages" [6].  President McKay, in the citation above, uses the example of Paul and Barabbas who were considered Apostles without them being included in the Quorum.  Paul it seems may have been later, while for Barabbas it is less clear.  It seems they were considered to be Apostles on the basis of what they had seen and that they were felt called to the ministry.
This seems to imply something similar to what Ammon describes in the Book of Mormon.  He says 'I am called by that Holy Spirit to teach [the gospel]… and a portion of that Spirit dwelleth in me, which giveth me knowledge and also power' (Alma 18: 34-5).  Moreover, there is a distinction between the calling and the ordinance associated with Priesthood power (see Al 13: 8).  In addition D&C 121: 37 argues that the powers of heaven may be conferred upon us, but that there are inseparable from the Spirit.  In fact if this section of scripture teaches us anything then it is that the Holy Ghost, through a Saintly life, gives power to an individual (see D&C 121: 46) not by the virtue of the Priesthood (D&C 121:40).
This suggest two things to me: first being an Apostle is not necessarily about being in the Quorum of the Twelve and that it may well be a Priesthood office, like High Priest, rather than a calling in that Priesthood.  Second there is a conception that Mormonism has scope for the 'Priesthood of all believers' type view.  Meaning that spiritual power is given to those who are called by God or receive that power, rather than by merely being ordained.
Notes:
1. Richard O. Cowan, The Church in the Twentieth Century [Salt Lake City: Bookcraft, 1985], 45.
2. Truman G. Madsen; see also Scott Kenney, Joseph F. Smith in The Presidents of the Church, ed. L.J. Arrington [Salt Lake City, UT.: Deseret Book, ?] p. 191.
3. Encyclopaedia of Mormonism, Appendix 1, p. 1631-51.
4. David O. McKay, Gospel Ideals: Selections from the Discourses of David O. McKay [Salt Lake City: Improvement Era, 1953], 250.
5. See Brigham Young, Journal of Discourses 6:320 and Heber C. Kimball, Journal of Discourses 6:29.
6. David L. Paulsen, The Doctrine of Divine Embodiment: Restoration, Judeo-Christian, and Philosophical Perspectives in BYU Studies, vol. 35, no. 4 (Provo UT.: BYU Press, 1996).