Oh God said to Abraham, "Kill me a son"
Abe says, "Man, you must be puttin' me on"
God say, "No." Abe say, "What?"
God say, "You can do what you want Abe, but
The next time you see me comin' you better run"
Well Abe says, "Where do you want this killin' done?"
God says, "Out on Highway 61." (Bob Dylan)
Soren Kierkegaard (1813-1855) has written about the experience of Faith.  His short book 'Fear and Trembling' discusses the experience of Abraham being asked to sacrifice his son Isaac, and his subsequent designation as the 'Father of Faith'.  This is probably not the place for an in-depth discussion of this book but I want to outline his views because it asks some important questions about what Faith is, how we exercise it and its fruits.
The first section of the book, is entitled, 'Attunement'.  In this Kierkegaard explores a number of different narratives that may have occured as Abraham takes his son up the mount.  In one he characterises Abraham as scared, in another he is fearless, in another he is angry.  To me it seems that Kierkegaard is trying to help us realise that Abraham's faith was not just in the act itself, but was exercised in every step in his journey?
Kierkegaard then poses a series of questions that the story of Abraham raises: but prior to that he outlines his view of faith as being able to give up everything and trust that you will receive it again on the strength of the absurd.  In other words, Abraham had faith because he gave up his son, but trusted he would be given back to him regardless of how absurd this hope was.  Is faith exercised in the absurd, or does it rest in the rational or logical?  I have always leaned toward the latter because I have been taught to study it out in my mind, but Kierkegaard's challenge has made me re-think.  Is it not absurd to believe that Jesus has suffered for our sins?
The first question regards whether what is ethical can be suspended?  Can Abraham's act to sacrifice his son (or Nephi's act) be considered good despite it being unethical, or even contrary to God's 'general' commandments?  Does faith lead us to do things that are contrary to the commandments?  If not what do we do with Abraham and Nephi, because it seems they are to be damned?
The second question asks whether there is an absolute duty to God?  In a similar way Joseph Smith said 'whatever God requires is right'!  Is this correct?  Do you believe that God would give you as an individual a specific command that might contradict what is more widely accepted as right?
The final question asks whether it was ethically defensible to conceal from Sariah or Isaac what he was going to do?
In each case Kierkegaard does not give an answer but leaves us with an either/or.  Either the ethical can be suspended,and their is an absolute duty to God and it is ethically defensible to conceal his intent or Abraham is not the 'Father of Faith'?  My problem then is that I am not sure I can have this kind of faith, because it asks things of me that I feel unable to do.  Moreover, I am not even sure that I would want to have this kind of faith.  This is, probably, Kierkegaard's intent.
I remember, as a naive Missionary, discussing with someone Joseph Smith's practice of polygamy, which for me has many parallels with how Kierkegaard frames Abraham's experience .  He argued that it was sinful.  I countered that it was practised in the Bible.  He said that it was for that time only, not now.  I asked, 'if God asked you to practice polygamy would you do it?'   He said, 'No'.  I smugly retorted, 'Then that is why you are not a Prophet and Joseph Smith was'!  Unsurprisingly, he did not let us teach him.  I regret this now, not only because I was an arrogant 20 year old who was supposed to be an ambassador of Christ, but also because I see more clearly the dilemma of doing something so reprehensible to our values that it is absurd, and that this may be the real test of our faith? A test I am unsure I would pass.  But is this something God asks of us at all?  (This is not intended to be a discussion of polygamy).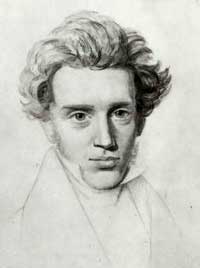 So what do you think? 
Do you have faith in the way Abraham does? 
Would you do anything God asked of you? 
Do you believe the story of Abraham or Nephi are literal and if so how do reconcile what they did with Christian Ethics? 
If they are myths what is the lesson to be learned from these stories?
Is Kierkegaard wrong in his logic? 
Can faith be rational or is the irrational the foundation of faith?