"You may say I'm a dreamer; but I'm not the only one."  John Lennon.
Acts 2:17:  ". . . your young men shall see visions, and your old men shall dream dreams."
The scriptures are full of visionary dreamers.  The following come to mind: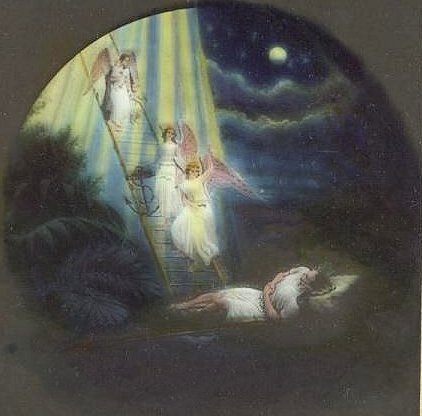 OT:  Pharaoh, Nebuchadnezzar, Joseph (son of Jacob), Daniel, the butler & baker of Pharaoh, Jacob/Israel, Abimelech, Solomon, Ezekiel, Balaam, Isaiah, Habakkuk, Abram/Abraham, Nathan, Ahijah, Iddo, Hezekiah, Job; plus some false prophets, too.
NT:  The wise men, Joseph (stephfather of Jesus) a few times, Mrs. Pontius Pilate, Paul, Peter, James, John, Cornelius, Ananias, and many more. 
BOM:  Lehi, Nephi, Omer, for starters.
D&C:  Joseph Smith, Sidney Rigdon, Oliver Cowdery, to name a few.
POGP:  Moses, Abraham, Joseph Smith come to mind.
I have found that many converts to the church have similar pre-conversion spiritual experiences (dreams, visions, intuition, etc.).  They seem to be the type of people who are attuned to those feelings and imbue them with personal meaning, whether they are in or out of the church.
Some anti sites dismiss claims of spiritual feeling within the church as being similar to what one might experience watching a romantic movie or a particularly touching long distance commercial.  These comparisons have nothing in common, IME, with an actual spiritual experience.  To me these dismissals sound a lot like Paul's warning in Timothy 3:5 that in the last days people will have "a form of godliness but denying the power thereof."  In our day, it's much more common to dismiss spiritual experiences as hypersensitivity, superstition, PMS or emotional instability (was that redundant?).
So, if God speaks to people through dreams and visions, how can we derive meaning from our dream life?  There are several key obstacles:
Remembering dreams is often difficult.

We work out problems in our sleep, so the source of inspiration is often our own subconscious vs. divine intervention.

Dream language and meaning differs from waking life and is often more symbolic with parallel meanings about one's emotional life.

It's personal and may not have significance for anyone but ourselves.
But here are a few terms that are helpful to understanding dreams (there are many sites on dream interpretation, but IMO only you can truly understand the significance of a dream you have had; it's happening in your head after all):
Recurring dreams.  There are certain themes that are common to many people that can help you understand your stresses and feelings and work through them:

Physical constraints – walking uphill and the hill gets steeper and steeper until you are going to fall over backwards, trying to crawl through a space that's too tight, being too tired to move at a normal speed.  These generally deal with the stress of being exhausted or overwhelmed.  Time to get a massage.
Path in life – inability to reach a desired destination, being in a car that can only drive backwards, being driven by someone else, the road beneath you disappearing or being difficult to navigate.  These generally deal with frustration at achieving one's goals in life or the direction one's life is heading.  Time to get back on track.
Tested – sitting for a test without being prepared, returning to one's earlier school days and not knowing where to go, forgetting one's locker combination.  These generally deal with the stress of being found inadequate.  Time to get over it.
Exposure – needing to go to the bathroom but not finding a suitable location, being naked in front of people, losing something you consider essential (like your teeth).  These generally deal with stress about loss of composure or how others view you.  Or maybe you should be sure to brush your teeth and go to the bathroom before bed.  Just a thought.
Discovery – inheriting a house or property that you find is much larger or grander than expected, finding lost treasure or something of sentimental value, etc.  These dreams relate to personal growth:  discovering a gift or quality within yourself.  These are my favorites!
Danger – being attacked by a vicious person or animal, being lost in a place that fills you with fear, trying to protect a child or animal from danger.  These can relate to fear and anger within us.  Time to chill-ax (as my 13-year old would say).

Emotional parallels.  Most dreams, recurring or not, can be understood if you listen to them for parallels to emotional life.  People usually represent facets of your own personality, sometimes archetypes, and occasionally those people themselves.  Ask yourself:  what is the significance of this person to me?  How am I like this person?  How do I feel about this person?
Lucid dreaming.  A lucid dream is when you realize you are dreaming while you are in the dream.  Sounds a lot like a vision to me, although most lucid dreams quickly become silly.  There are a few easy ways to tell you are dreaming:  look at an analog watch or clock (you can't make it work right in a dream), try to read a book (the words will either swim on the page or the pages will be blank, flying (remembering, oh yeah, I can fly), or a really easy one is to just take off your clothes (that almost never happens in real life, but somehow passes without comment in dreams).  Some people like to go crazy with this stuff and live a whole different life in dream-landia, free of the restraints of superego.  To them I say:  don't ask, don't tell.
Sleep paralysis – this is when you become aware that you are sleeping, but you are so deeply asleep that you can't move.  You may imagine you are lying in your bed and someone is in the house, but you can't move.  I sometimes imagine that a cat just walked on the piano keys downstairs (which is weird since we don't have a cat).  Theories exist that this is the basis for alien abduction experiences (vs. actual alien abduction) or the basis for medieval demon encounters.  It just reminds me that I'm glad we don't have an actual cat.
So, are dreams the same as visions?  When do dreams have religious significance?  Some pre-conversion dreams I have heard of over the years:
I went to a minister who said he had my name in his book, but it wasn't there.  I knew it wasn't true, even though he was insistent.

I was walking through a wasteland and then I found something of great value (a treasure, something I lost, a tree with fruit).  (even JS Sr. had this one)

I met a dead relative who told me something important was going to happen to me soon.
So, are converts more susceptible to spiritual dreams and/or visions?  Are all members of the church?  Does this extend to other spiritual gifts?  Have you heard of these types of experiences?  Are they common or rare?  Are they hereditary gifts or are they skills one can develop?  Are dreams the same thing as visions?  Do the same rules apply?  And is it inspiration or just head games for one?  Discuss.